So after an exhausting day playing around Blackpool on Saturday; Terry and I got up early to go to Manchester's Comic Con. It was our first time going and we didn't really know what to expect.
It was really good though! For those of you (like myself) who have never been to a convention before; it was basically a bunch of stalls selling geeky merchandise. Most of the merchandise centered around Japan, anime and gaming culture. There were however a TON of Disney cosplayers thanks to the success of Frozen earlier this year.
Manchester Comic Con
There were Frozen, Resident Evil, Lara Croft and tons of anime cosplayers. But I was there to see the much cooler Final Fantasy characters. I got to meet my home-girl Tifa and I was shocked and amazed to see one girl in a full on Red XIII fursuit.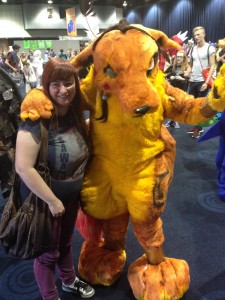 Please ignore how mega chuffed I look. In the Tifa picture you can also see a girl dressed as naked Dany from Game of Thrones going past. She was certainly one of the more creative cosplay ideas we saw.
Terry enjoyed the Resident Evil cosplayers but he wasn't up for getting any photos took with strangers. The thing I really love about events like Manchester Comic Con, though, is how friendly everyone is. It's especially important to me when I go to events like this because I really don't know many other Final Fantasy fans who really want to be part of the community. I wish I'd asked some of the cosplayers what forums they frequent.

---
Related articles