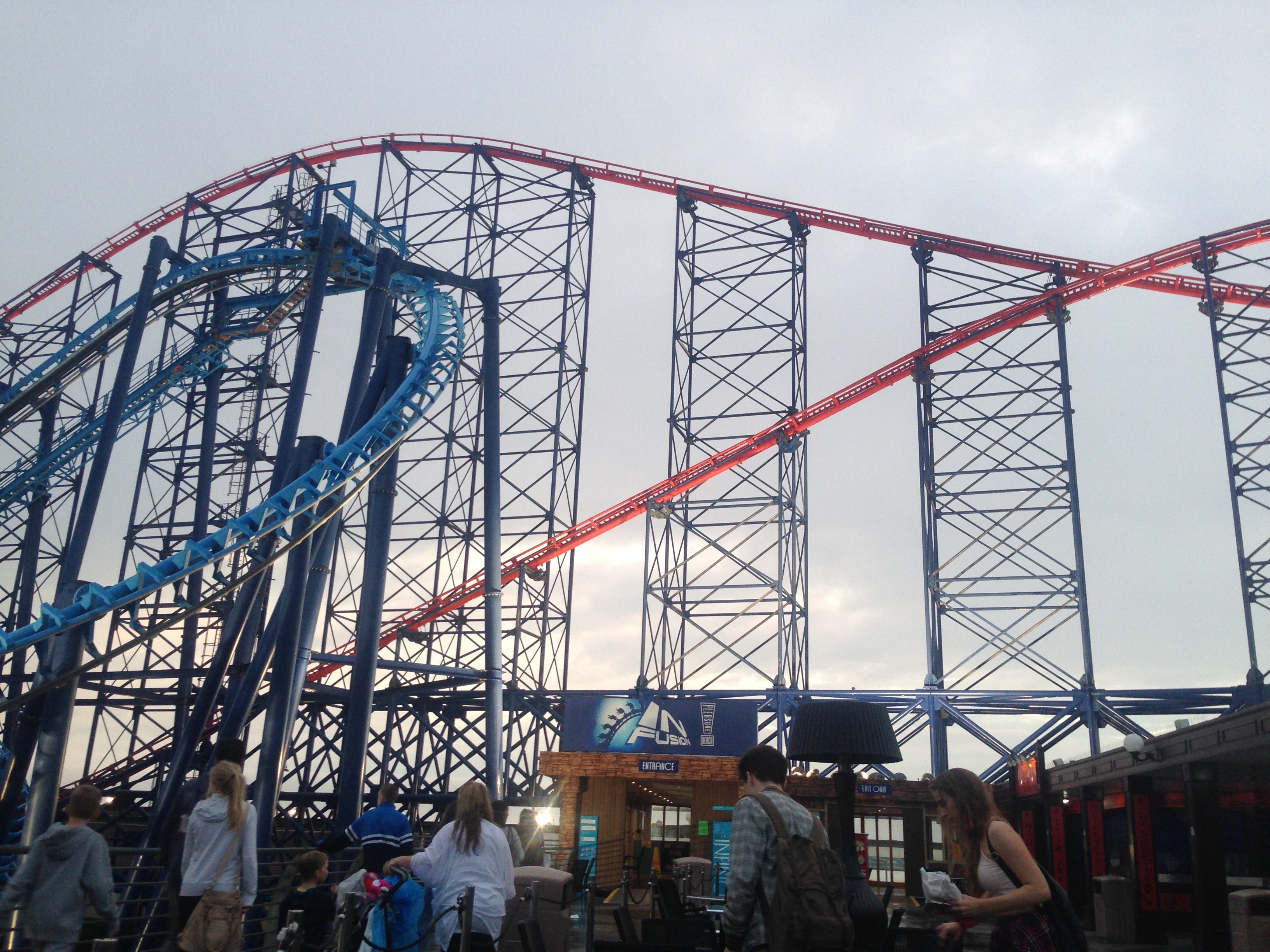 Nath, Terry and I went to Blackpool on Saturday. It's been a long time since I had been to Blackpool, even longer since I went on the Pleasure Beach. It had been so long in fact that the only ride I had been on previously was the Ice Blast (back when it was known as the Playstation). So naturally I was a little anxious over the new hardcore rides and the inevitable first ride on The Big One.
Blackpool Pleasure Beach – My Thoughts
This place has had a lot of work done since I was a kid. Whilst parts of it do look like they've been untouched for decades the newer Nickelodeon Land looked amazing. We went on The Streak, Avatar and also had a little trip to the kiddy log flume. Holy crap I forgot how much I love log flumes.
We next went on Infusion (easily the worst ride in the entire park) not because it wasn't fun, but it was so clunky my head was being slammed side to side so much it hurt like hell to be on that thing. Regardless it gave us the adrenaline to actually go on The big One.
I'm honestly not a rollercoaster person, I much prefer… Well, every other ride to the rollercoasters in a park. The Big One was no exception. Sure it was kind of fun to go all the way up there, well actually it was far more terrifying than it was fun for me haha. The real thing that bother's me about The big One is how poorly strapped in I felt. This is one of Europe's biggest rollercoasters, and I could feel myself flying up off my seat with only a standard seatbelt and a bar to keep me in. The Big One was… Fine, but not for me – too scary.
I found much more enjoyment in the Revolution coaster. This is a short one that takes you upside down, then goes back through the loop backwards. It was a great ride, being scared of heights the worst part of Revolution was queuing on the high stairs.
There were other great rides, notably The Grand National and the Steeple Chase were ones we went on again and again. But the ride that really made the day awesome for me was Valhalla.
I'd heard of Valhalla before, it's another one of Blackpool's rides with a bad rep. I actually thought it was a rollercoaster in the dark for the longest time; with some water effects and wetness thrown in. I genuinely had no idea it was just a large log flume. I freakin' loved it.
We went on Valhalla three times that day, we were drenched from head to toe, but it was so worth it! I'd go to Blackpool Pleasure Beach again and again to ride Valhalla. It was epic.

Related articles